After 125 years of an economy based on logging and fishing Fort Bragg needs to build new economic possibilites:
Sustainable logging will always be an important part of our Fort Bragg's future.
We can build a bio-mass facility & small mill to maximize and localize sustainable forestry jobs as well as create energy.
Fishing also will continue to provide good jobs and business to the coast.
Tourism will grow as more and more folks discover our little town nestled between the redoods and the Pacific.
The new coastal trail on the mill site is already getting national acclaim.

Next Steps


Establish Noyo Center for Marine Science, creating jobs and, in conjunction with Mendocino College, the best Marine Science program in California Community College system.
Help fast growing North Coast Brewing relocate to mill site and anchor Eco Industrial Park.
Turn Dry Shed #4, the last building on the mill site, into Industrial Art Center. Affordable workspace and shared equipment for beginning woodworking businesses along with showroom for coast's entire woodworking community can turn our nascent woodworking economy into a local economic engine.
Make affordable high bandwidth Internet available to local businesses to help them grow as well as attract start-ups from Silicon Valley.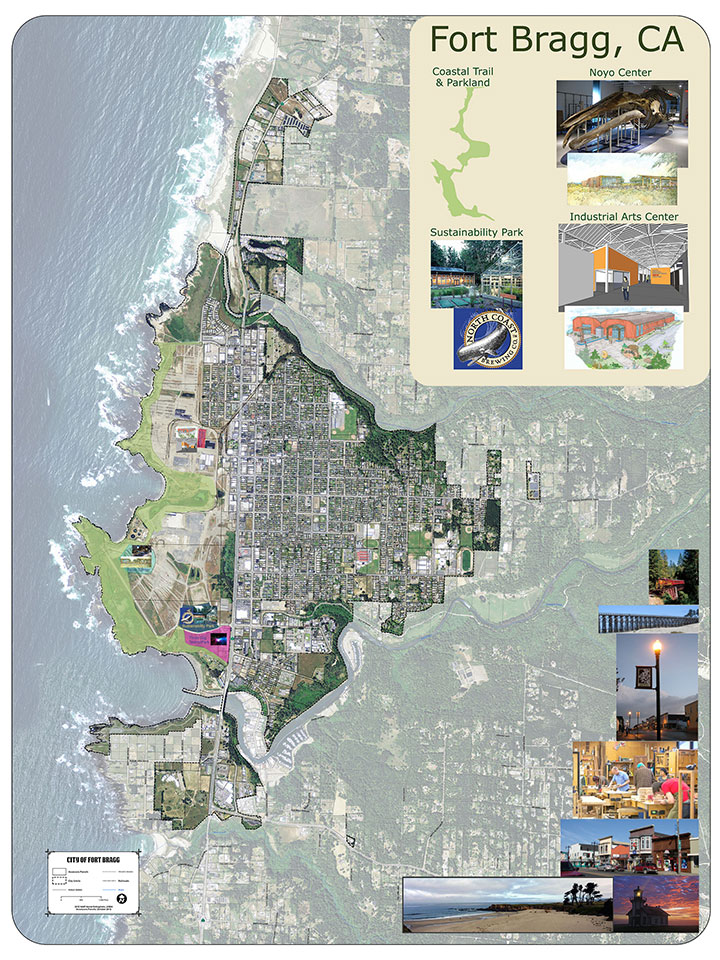 (Click here to see large 1.5 MB copy of map)
Fort Bragg is getting the job done.
We have acquired 90 acres of parkland and trail along the entire coastline. Imagine starting out at Pomo Bluffs Park and having an 5 mile ocean trail all the way out across the trestle to MacKerricher State Park.
The Noyo Center has formed as non profit organization.. We have purchased 11 acres on the mill site. Not only will the Noyo Center create quality jobs, it will help our Community College become a destination for those interested in Marine Science. Local Community College students will be able to study Marine Science here and those that excel will have the opportunity to transfer to one of the consortium of colleges partnering with the center.
We are working on plans for an Industrial Arts Center on the mill site to provide affordable work space for our fine woodworkers as well as other industrial arts. Equally important, sitting just west of the Skunk Train, it will provide a venue for visitors to see (and buy) the incredible fine work done here on the coast, supporting these craftspeople.
And we have done this the 12 years I have been on council with a balanced budget.
Thanks for your support.